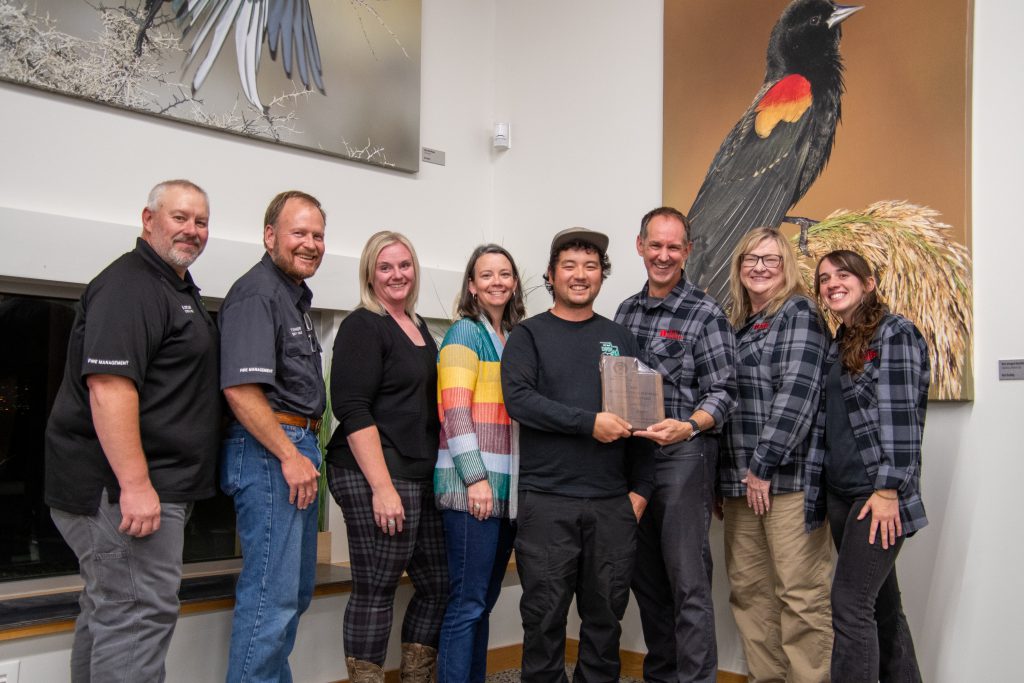 SALT LAKE CITY – Team Rubicon has been honored with the 2023 WUI Mitigation Award for their work in wildfire mitigation efforts in the wildland-urban interface within the Moab area. The award recognizes their dedication and innovative approach to safeguarding communities against the devastating impact of wildfires.
"Much of the work we do in Moab couldn't be accomplished without the help of dedicated volunteers such as Team Rubicon," said Duncan Fuchise, Southeast Area WUI Coordinator for the Utah Division of Forestry, Fire and State Lands. "These operations have helped agencies come together with one common goal: protecting the lives and property of the people that live and visit Moab. The effort that Team Rubicon puts in to protect Moab has been exceptional and we look forward to working with them more in future operations."
Since 2018, Team Rubicon has been actively involved in various projects to reduce the risk of wildfires in Moab. Their commitment to exceeding project expectations and demonstrating remarkable leadership, creativity, and innovation has set them apart as this year's award recipient.
One of their earliest endeavors in 2018 saw Team Rubicon responding to the Cinema Courts Fire that destroyed nine houses in Moab. Their initial operation, comprising approximately a dozen volunteers, focused on felling and clearing burned hazard trees in the creek bottom, laying the foundation for their long-term involvement in wildfire mitigation.
Team Rubicon returned to Moab in 2019 with 60 dedicated volunteers for a four-day fire mitigation project. Their primary goal was to clear around 1.5 acres of dense Russian olive trees in public parks. This effort proved instrumental, as a fire ignited in the previously treated area that summer. Had the area not been cleared, containing the fire would have been considerably more challenging, potentially leading to the destruction of nearby condos.
In 2022, Team Rubicon embarked on another significant fire mitigation operation, collaborating with many agencies, including non-profit, local, state and federal organizations. Over eight days, their 45 volunteers cleared 9 acres of dense Russian olive and elm trees in the creek corridors, removing nearly 2000 trees and chipping 205,000 cubic feet of material. The total project cost, including volunteer hours, amounted to approximately $100,000.
In the spring of 2023, Team Rubicon continued their mitigation work with "Operation Thorny Subject," deploying around 30 dedicated volunteers. This project involved a collaborative effort with multiple agencies, reinforcing the collective commitment to wildfire mitigation in the region.
Team Rubicon's exceptional contributions to wildfire mitigation extend beyond their typical job responsibilities as a disaster response organization. Their innovative approach to pre-wildfire work and their dedication to community safety have made a lasting impact in Moab.
These projects have effectively engaged many agencies and organizations, many of which had not previously been involved in such efforts. The collaborative nature of their work has amplified its impact, reaching beyond the immediate project benefits.
Funding for the 2023 Operation Thorny Subject was sourced from various entities, ensuring the sustainability of these essential projects. Team Rubicon predominantly operates based on volunteer time, with staff compensated through donations.
Team Rubicon's recognition with the WUI Mitigation Award is a testament to their unwavering commitment to wildfire mitigation in Moab and the State of Utah.